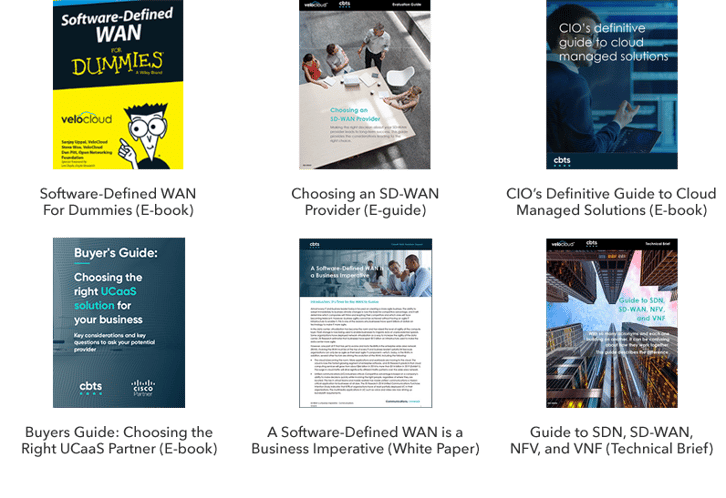 Software-Defined WAN For Dummies (E-book) - SD-WAN Education Tailored For CIOs! CBTS is pleased to announce its SD-WAN offering, powered by VeloCloud, that provides a consistent, high-quality experience across distributed locations while reducing network costs and management complexity.

Choosing an SD-WAN Provider (E-guide) - Sifting through all the SD-WAN offerings can be daunting, especially when the layers are peeled back to examine what's really driving the solution. Get guidance on asking the right questions of a potential SD-WAN provider and clarify the key attributes that separate vendors from each other.

CIO's Definitive Guide to Cloud Managed Solutions (E-book) - Learn how six key verticals are moving to the cloud to circumvent business and IT challenges in order to be set up for success against future demands.

Buyers Guide: Choosing the Right UCaaS Partner (E-book) - In today's digital world, success depends on your business' ability to adapt in an instant. With the right collaboration tools, you can be one of those agile companies that achieves better performance and results through the teamwork of employees, customers, and partners.

A Software-Defined WAN is a Business Imperative (White Paper) - Businesses have spent an estimated $12 billion on infrastructure used to make the data center more agile. However, one part of IT that has yet to evolve and lacks flexibility is the enterprise wide-area network (WAN). Find out why SD-WAN is at the top of every IT and Business Leader's priority list.

Guide to SDN, SD-WAN, NFV, and VNF (Technical Brief) - Confused by the deluge of new buzzwords in network industry news? SD-WAN, SDN, NFV, and VNFs all share similar principles and goals but with so many acronyms and each one building on another, it can be confusing about how they work together. This Guide to SDN, SD-WAN, NFV, and VNF Technical Brief describes the difference.